PHILOSOPHY
Clean air is vital for 3 reasons
The three-pillar protection
Or the better is the enemy of the good.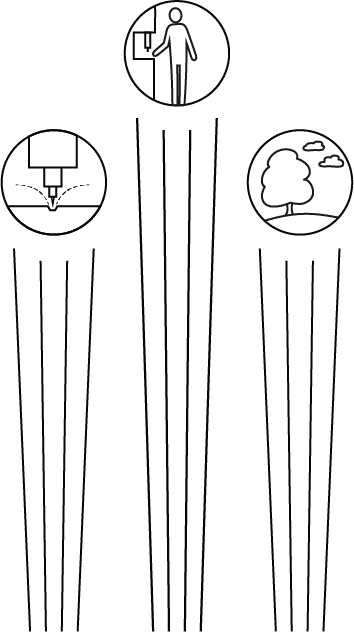 With every breath
that we take, about half a litre of air gushes into our longs, minute for minute, day and night – our whole life long without interruption. The cleaner, the better. Clean air is a vital commodity which no-one can do without!

But, our clean is under threat from countless pollutants from many different work processes. Air pollutants such as dusts, fine dusts or fumes such as laser emissions, gases, vapours or solvent fumes which, together with many others, form a long negative list.

And this is exactly where Fuchs Umwelttechnik takes over responsibility from users in trade and industry.


The three-pillar protection
Perfect health protection at the workplace,
protection of valuable machinery and
elementary environmental protection
build the three pillars of Fuchs Umwelttechnik's corporate philosophy here.

This three-pillar protection is guaranteed to you by every one of our sophisticated extraction and filtering devices which are perfectly adapted to the respective problem from the highly efficient pollutant extraction to the clean air filtering.
Why? Because, at Fuchs Umwelttechnik, there is a brilliant mind behind every development.
Their knowledge, engineering skills and highest quality standards create reliable, sophisticated and highly effective extraction and filtering systems. Designed, developed and manufactured in Germany. For more than 35 years.


Setting sights on the future

Being a pioneers, predicting changes, developing innovations, turning visions into reality – we always look forward, our commitment is to the future: And our company motto is "the better is the enemy of the good". We at Fuchs Umwelttechnik are on the ball for the world of tomorrow and offer the better solutions for future challenges.