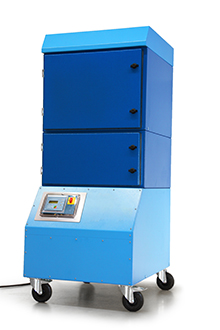 Sep 2015
IF – EX and away with those explosive dusts
Dusts in the chemical industry, coal dust, carbon fibre dusts, paper dusts or dusts in the production of food etc. can sometimes be a problem. They can be flammable, dry and non-conductive (IP5x / IIIB) as well as conductive (IP6X / IIIC).

If you only expect rare explosive atmospheres with Zone 22, the mobile extraction and filtering units of the IF1740 ATEX and IF2400ATEX types are perfect for dedusting. Designed for the dust/air mixture of the dust explosion class St1/St2 up to a surface temperature of 200 °C, the two IF extraction and filtering units have a completely anti-static structure. They are fitted with multi-stage, anti-static filter equipment as well as automatic filter monitoring.

Do you want further information? We look forward to hearing from you
Phone +49 (0) 73 46/9614-0!