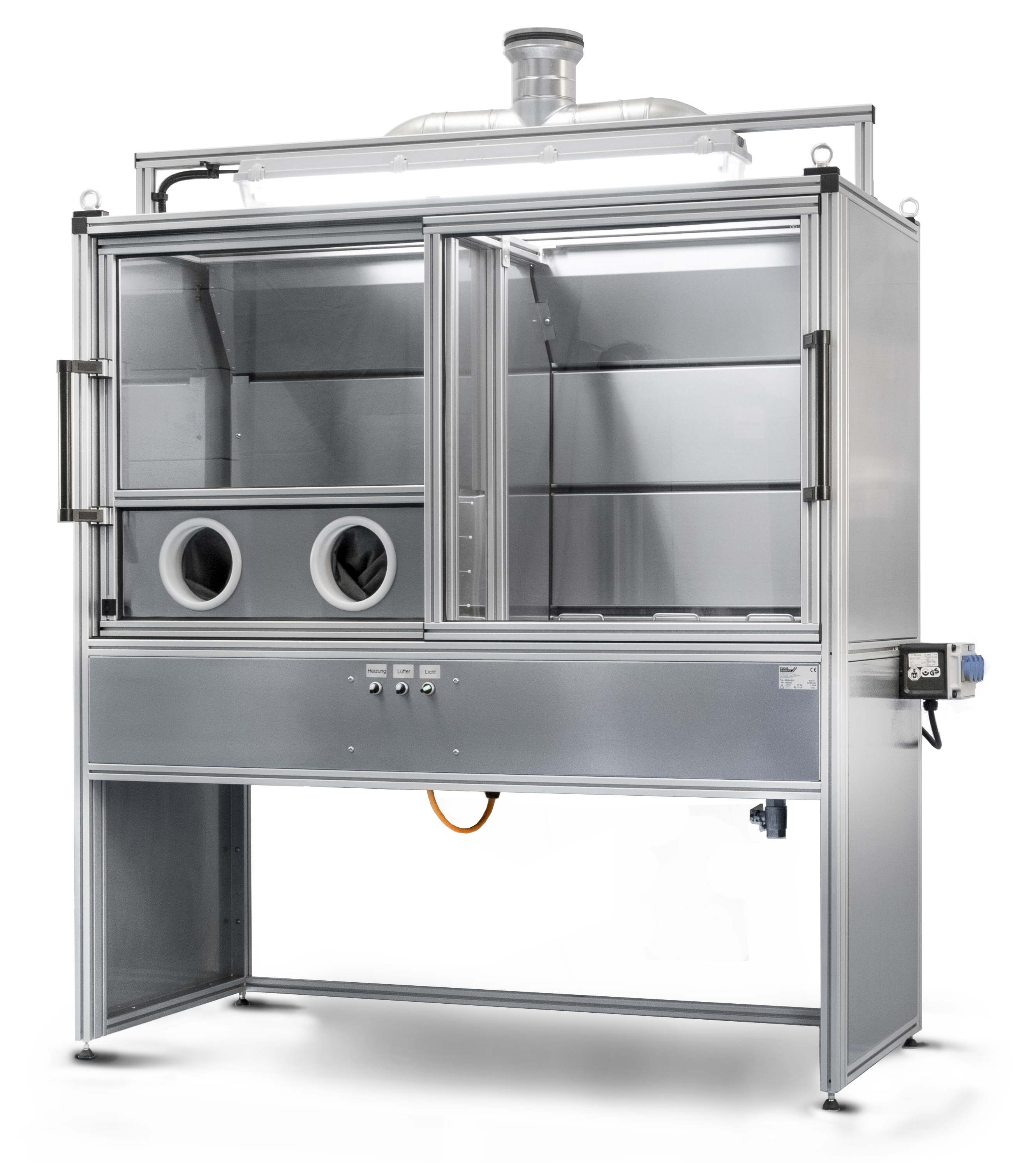 Jan 2019
ABKAB03 double cleans better. The 2-zone extraction booth for orange terpenes from Fuchs Umwelttechnik
Silky matt, gleaming stainless steel, sturdy aluminium sections, two separate work zones behind integrated sliding glass doors and clear lighting through the glass roof – this superb special development ABKAB03 from Fuchs Umwelttechnik certainly looks impressive.
The initial situation at the customer: during the production process – work takes place in 3 shifts – the used tool parts get increasingly dirty. These must be removed and sticky adherences, e.g. resins, cleaned off as soon as it becomes necessary. Health-hazardous fumes occur in the process which can only be handled safely by effective extraction.
An ambitious project for the implementation of which a large number of specifications, parameters and special features need to be considered. Ultimately, with this new extraction booth, the engineers at Fuchs Umwelttechnik have developed a two-part work area which ensures both efficiency and safety.
Part 1, the immersion bath. Our engineers placed a cleaning bath in the floor of the booth, also made of stainless steel. Safely behind the glass doors, the contaminations are dissolved from the tool parts in an 80 °C hot bath with orange terpenes. Three screens ensure safe assembly.
And on to part 2. Remaining dirt particles are blown off in the left booth section with compressed air, protected by the front safety glass and permanently installed gloves. The integrated roof light leaves nothing in the dark.
At the same time, all fumes that occur during cleaning can be extracted permanently and completely through the suction slits in the rear wall. On both sides of the booth.
Details such as the four sockets, compressed air connections, perfect illumination or the easy operation and ergonomics are evidence that we have thought about everything for this work place.
Engineering work for an impressive result. Engineering work that singles out Fuchs Umwelttechnik and that we are more than a little proud of.