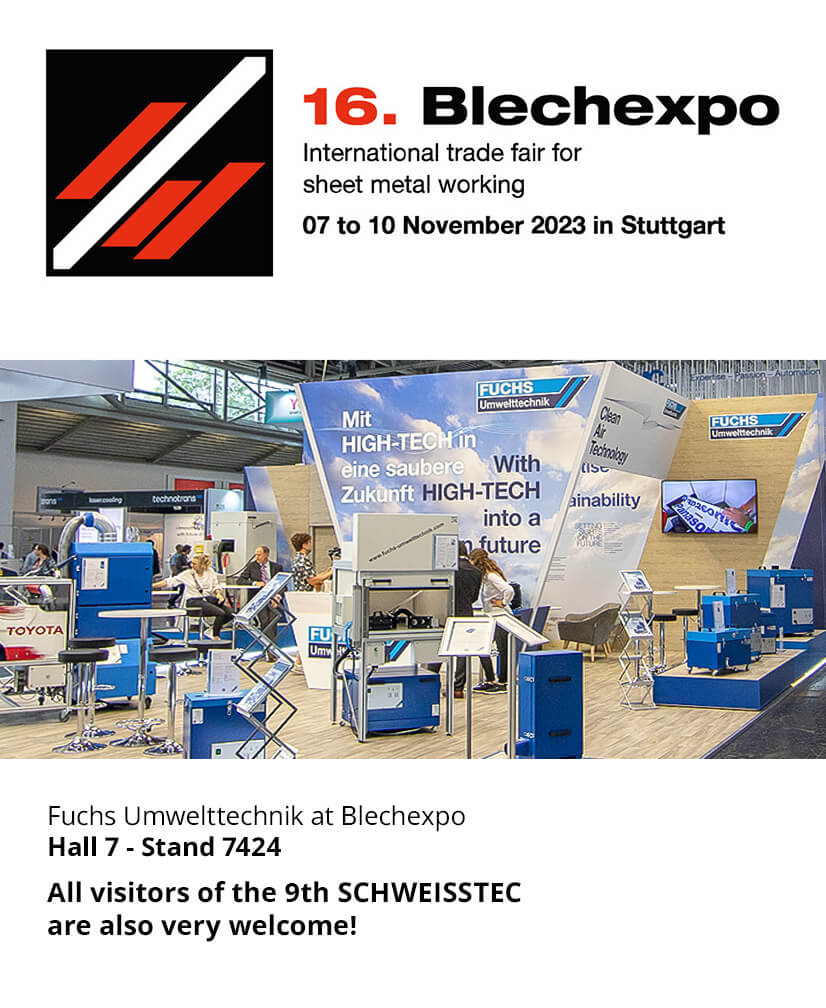 Sep 2023
Fuchs Umwelttechnik at the Blechexpo 2023
Metal in a double pack: the Blechexpo and the Schweisstec side by side in November in Stuttgart
The 16th Blechexpo and the 9th Schweisstec – two trade fairs side by side on the subject of metal. An ideal fair duo which is presenting the modern process steps from material processing to final assembly. And right in at the thick of it, the Fuchs Umwelttechnik booth in Hall 7 at the Blechexpo.
Because this exactly where the Fuchs Umwelttechnik know-how comes into the picture for these processes as many of them demand professional handling of the accumulating emissions. Whether fine dusts, oil mist or welding fumes, solvent fumes, laser emissions and more – Fuchs Umwelttechnik supplies sustainable solutions for them all.
Whether you come from the Blechexpo or the Schweisstec, our engineers and technicians await you at our fair booth and will be presenting a number of interesting new developments.
As one of our highlights, you will see the MKFVA extraction and filtering device with special equipment options for the maximum safety level, e.g., for titanium dusts with various extinguishing devices. A second highlight is the new flow passage – with smoke generator for visualisation – for efficient collection of emissions in the MKFAKRTF1 extraction booth. Thirdly, we are presenting the INRVAZRS rotary air lock, the automatic extraction module – another new development from Fuchs Umwelttechnik.
Our competent team would be delighted to speak to you at our stand. You can rest assured that we will take our time answering your questions and discuss your individual requirements.
Fuchs Umwelttechnik at the Blechexpo, Hall 7, Booth 7424, 7th to 10th of November 2023
https://www.blechexpo-messe.de/en/Exhibitor-Index/74500-fuchs-umwelttechnik-gmbh/