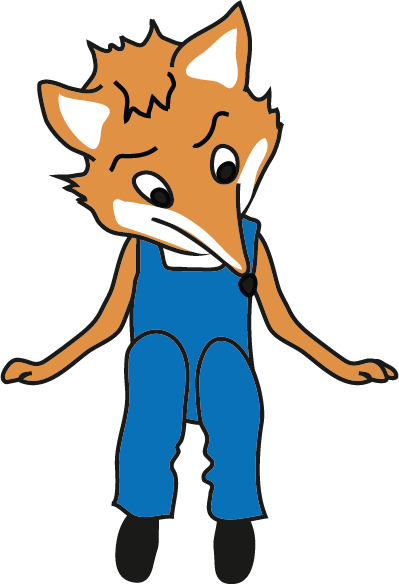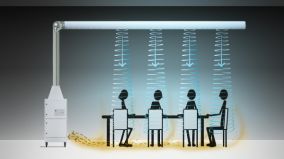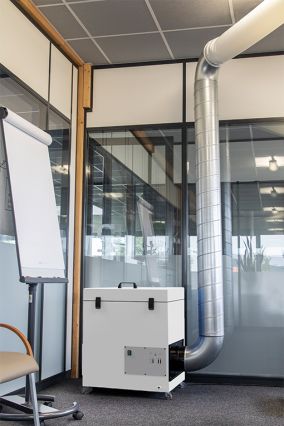 Forget all about germs in the ambient air and work again safely and without constantly freezing from now on because
our new draught-free, safety room ventilation – the clean air system
– efficiently reduces the aerosol contamination and therefore the airing frequency during the cold season.
Thanks to the integrated CO2 sensor, you always know when airing is needed.
And this is how our clean air system works: Clean air flows down gently and pleasantly from high-quality textile filter hoses on the room ceiling and envelops all people under a hood of clean air. Harmful aerosols can no longer spread freely throughout the room but are carried down further by the air stream and collected by our extraction and filtering unit. The photocatalytic air purification inside the housing reliably kills bacteria and viruses.
Then the purified air flow back into the room through the textile filter hoses. In this way, the persons in the room are surrounded by a mantle of clean air. Ideal for well-frequented places such as offices or conference rooms.
We supply systems with extraction and filtering units of 300 – 2,000 m³/h according to the required air exchange rate depending on the number of workplaces or size of the rooms.
Optionally, we can also equip the textile filter hoses with special blow-off nozzles for directional air guidance.
The low noise emission ensures interference-free working at all times.
The new system solution also exhibits consistent customer orientation by the ideal energy efficiency and the easy and uncomplicated on-site assembly.
Our clean air system is available immediately and in conjunction with the Photokat module is the ideal safety equipment for office and conference rooms. The function of our Photokat module has been scientifically tested and confirmed by a qualified laboratory.
Ask our Technical Department for competent consulting.